TruMed
Basic & Advanced IV Therapy
TruMed focuses on IV Therapy in Edmonton.

Our Naturopaths offer both basic and advanced level infusions.
Basic IV Therapy treatments include the Myers', Glutathione, Vitamin C and Hydration.

We offer numerous advanced IV therapy treatments: NAD, NADH, Curcumin and Plaquex

Dr. Muradov has advanced IV therapy training and experience.
Dr. Muradov has administered approximately 10 000 IV Therapy treatments.
Dr Muradov is extremely experienced with Intravenous Therapy

IV Drips & Infusions can rapidly improve numerous conditions.

Contact TruMed for a complementary IV therapy consult

Edmonton IV therapy: Advanced Therapies

Call

780 757 8378

to book for IV therapy today
Our Advanced IV Therapies
NAD+ IV - NAD is an advanced treatment for fatigue, longevity and anti-aging.
NADH IV - Reduced NAD+ (NADH) can be supportive for improving energy
Curcumin IV - IV Curcumin are given for pain and autoimmunity
IV Plaquex - IV Phospholipids for heart disease, mold exposure and Lyme.
IV Lipoic Acid - Intravenous Lipoic Acid for MS, Lyme, and Cancer support.
We've given Edmonton thousands of IVs since 2010
We offer NAD+ IV Therapy mainly for Fatigue & Longevity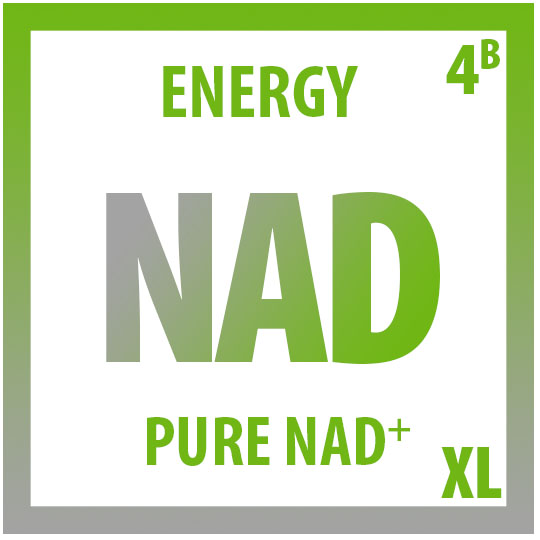 Intake of nicotinamide riboside (NR) which can be converted into NAD+ (through the salvage pathway) can be used to maintain NAD+ levels after IV therapy with NAD+.
NMN (nicotinamide mononucleotide) intake can also increase NAD+ levels.
NAD+ is a Vitamin B3 derivative cofactor used to transfer of electrons for ATP synthesis. NAD+ and NADH refer to the oxidized and reduced forms respectively.
NAD+ is reduced to NADH glycolysis and the Krebs cycle to be used in the electron transport chain.
Intravenous NAD+ provides additional substrate for ATP production and frequently produces massive increases in energy for patients.
NAD+ infusions appear to effect cognitive clarity and mood in some patients.
Typical IV Therapy doses of NAD+ range from 250mg to 1500mg whereas the average person has 3000mg of NAD+ in their body.
IV NAD+ can be combined with Vitamin Cocktail IV Therapy for an enhanced effect.
Raising NAD+ levels in mice has shown to extend lifespan in various models.
Therefore IV NAD+ is thought to be a longevity enhancing treatment especially when combined with Hyperbaric Oxygen.
Intravenous NAD+ can used for substance cessation and withdrawal, although this is done infrequently at our Edmonton office.
Summary: NAD+ IV Therapy is most commonly used for boosting energy, and can be combined with IV Vitamins and Hyperbaric Oxygen for an enhanced effect.
NADH+ IV Therapy
We offer Edmonton NADH+ IV Therapy mainly for Fatigue & Parkinson's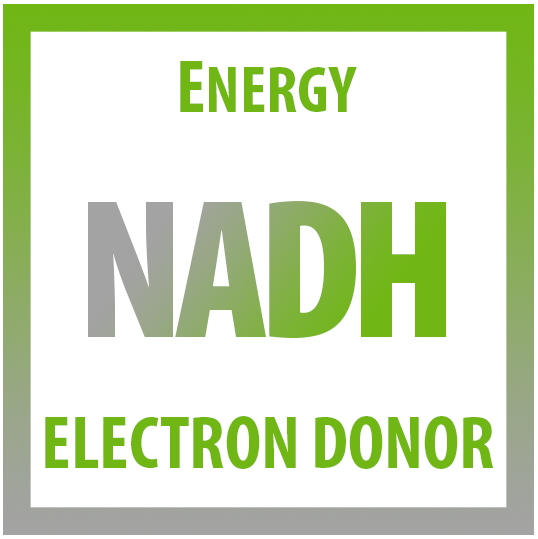 The electron transport chain is a series of electron transporters embedded in the inner mitochondrial membrane that shuttles electrons from NADH and FADH2 to molecular oxygen.
In the process, protons are pumped from the mitochondrial matrix to the intermembrane space to create a proton gradient, and oxygen is reduced to form water to produce ATP.
ATP synthase then uses the proton (H+) gradient to form ATP.
As such NADH can be used both orally and intravenously for energy production.
Our Naturopaths consider NADH in any pathology where impaired energy production might be at play.
NADH in conjunction with CoQ10 has been heavily studied in Chronic Fatigue Syndrome with good effect.
Intravenous NADH treatment has been studied in Parkinson's disease. It is thought that NADH is a "potent stimulator of endogenous levodopa."
Our Naturopathic Doctors frequently stack IV NADH with IV Glutathione for Parkinson's treatment.
NADH IV Therapy is tolerated much better than NAD+ IV Treatments and is generally a much faster treatment with regards to administration time.
Summary: Intravenous NADH treatments directly effect the energy production pathways and can be used in fatigue. NADH IV Therapy has been formally studied in Parkinson's disease.
Curcumin IV Therapy can be used for pain, inflammation and cancer support.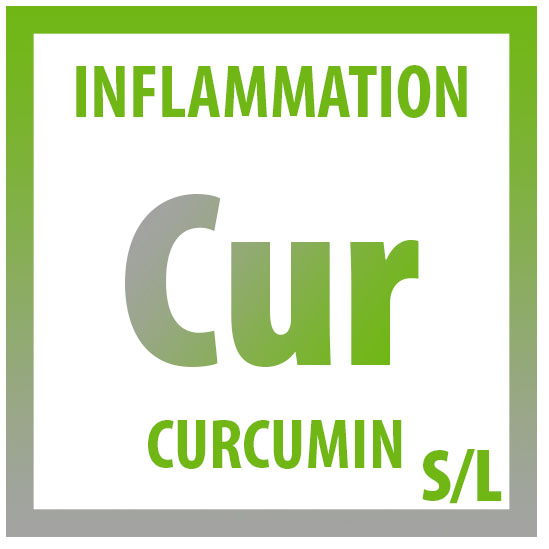 IV Curcumin Facts
Curcumin is the well known yellowish pigment found in turmeric.

Curcumin is an antioxidant and an anti-inflammatory often used for pain, and has anti-cancer, and neuroprotective effects.
The oral bioavailability of curcumin is low, hence the interest in IV Therapy administration of Curcumin.

In particular, curcumin inhibits the transcription factor NF-kB and mediates it anti-inflammatory action and the induction of Nrf2 signalling pathways promotes antioxidant defense mechanisms and production of phase II liver enzymes.


As an anti-inflammatory with regards to pain, numerous trials have demonstrated significant effects in arthritic pain using Curcumin.
Occasionally we use IV therapy with Curcumin for advanced cases of Arthritis or aggressive autoimmunity, likely in conjunction with a good quality absorption enhanced oral preparation.
Recent studies have shown that curcumin ameliorates multiple sclerosis, rheumatoid arthritis, psoriasis, and inflammatory bowel disease in human or animal models.
Anti-cancer effects of curcumin are numerous and in part are related to an increase in the p53 levels.
In one trial, with advanced Colon Cancer patients, curcumin resulted in stable disease for 2-4 months in five of fifteen patients.
Our Naturopaths consider the use of Curcumin IV therapy in Colon and Pancreatic cancer in particular.
Curcumin seems to potentiate the antitumor effect of gemcitabine which is commonly used in Pancreatic cancer.
Curcumin IV Therapy is frequently associated with phlebitis (vein inflammation) and consequently is given extremely diluted with rotation of used IV injection sites.

Summary: IV Therapy with Curcumin has preliminary data supporting its use in Pain, Autoimmunity and Cancer
We offer Plaquex for Cardiovascular disease, Liver and Lyme disease.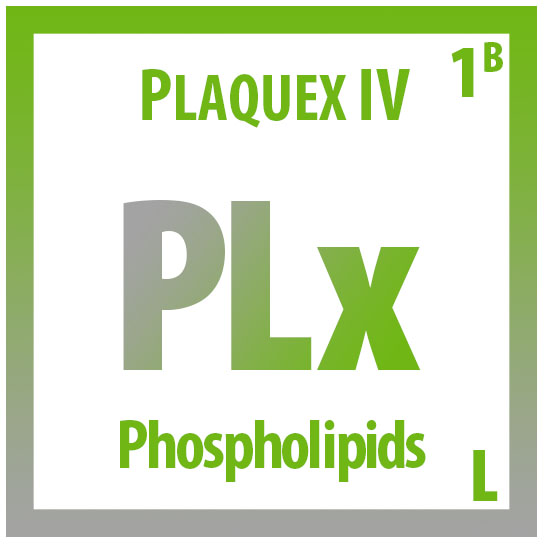 IV Plaquex Facts
A cell's functional capacity can be measured, in part, by the fluidity of its membranes. One of the most common forms of cell damage is created by free radicals, which reduce membrane fluidity and cell to cell communication.
Preventing loss of membrane integrity due to damaged components may be accomplished, in part, by
replacement of damaged lipids.
Polyunsaturated phosphatidylcholine is essential for the structure, function, and regeneration of all
biological membranes.
Through IV administration of Plaquex (intravenous phosphatidylcholine - a type of Phospholipid) cell membranes will incorporate it including the mitochondrial membranes which are key for cellular energy production.
Intravenous Plaquex for Cardiovascular disease has some reasonable human data.
For example, the investigations of Almazov et al. looking at patients suffering from ischemic heart disease and angina receiving 500 mg/d of intravenous Plaquex for a period of 14 days.
20 of the 34 patients reported an absence of anginal attacks already at the end of the first and beginning of the second week of treatment.
The other 14 patients experienced a reduction of attacks from 8 to 10 per day to 1 to 3 attacks per day, with the severity decreasing as well with a reduction in nitro use.
Human data for hepatic (liver) disease - viral hepatitis, fatty liver, alcoholic fatty liver and liver cirrhosis have shown benefit from oral consumption. Naturally, we consider IV Therapy administration at our office.
Namely, our Naturopaths consider IV Therapy with Plaquex for - Cardiovascular Disease, Hepatic Disease, Neurodegenerative Disorders and Lyme Disease as well as Mold Exposure.
Phospholipid replacement therapy, albeit orally, has shown benefit for treating Lyme associated fatigue (NTFactors - which we work with at our Edmonton office).
IV Phospholipids are frequently "stacked" with IV Lipoic Acid and Glutathione IV Therapy.
Phospholipid replacement is also considered in other neurological disorders such as ALS, MS, Parkinson's and Alzheimer's.
In Mold toxicity, using oral and IV Phospholipids to replace membranes, the mold biotoxins attached to them are also eliminated.
Summary: IV Plaquex (phosphatidylcholine - a type of Phospholipid) replenishes cell membranes with potential use in Cardiovascular Disease, Hepatic Disease, Neurodegenerative Disorders and Lyme Disease as well as Mold Exposure.
We offer Intravenous Lipoic Acid for Cancer, Lyme and Skin Health

IV Lipoic Acid Facts
Alpha-lipoic acid is an anti-oxidant we produce in our bodies.
Lipoic Acid recycles other antioxidants such as vitamin E, vitamin C, and even glutathione.
Alpha Lipoic Acid is involved in Glycolysis, in particular in the conversion of pyruvate into acetyl-CoA - for entry into the Krebs Cycle - it's intimately involved in energy production with Vitamin B1 (Thiamine).
Why give Lipoic Acid intravenously? It's only absorbed about 30% from dietary or supplemental sources, and food reduces absorption by another 30%.
Alpha Lipoic Acid is an excellent example of a substance with enhanced levels through IV Therapy administration.
Lipoic Acid is a cofactor for certain mitochondrial enzymes and in addition to antioxidant activity it has robust anti-inflammatory activity.
In particular, inflammatory cytokines suck as TNFα, IL-6 and IL-1 are suppressed (via NF-κB inhibition).
ALA can scavenge free radicals both inside and outside of cells, and is both water and fat soluble "amphiphilic", and easily crosses into the brain.
Our Naturopaths use Intravenous Lipoic Acid in neuroinflammatory conditions like Lyme Disease and Multiple Sclerosis.
Both conditions benefit from "stacking" Lipoic Acid with IV Glutathione treatments.
Furthermore, Lipoic Acid also increases neuronal blood flow, conduction velocity and glucose uptake, as well as increases amounts of reduced glutathione in neurons, making it a powerhouse for nervous system health.
Can Alpha Lipoic Acid be used for Cancer?
Yes!
Intravenous Lipoic Acid is frequently employed in the "metabolic" treatment of Cancer.
In conjunction with Low dose Naltrexone "LDN", Lipoic Acid IV Therapy has some profound case reports in Pancreatic, and Renal Cancer.
Whereas, its use with the herb Garcinia and LDN has been shown in case reports of Lung, Esophageal, Uterine and Brain Cancers.
Our Naturopathic Doctors have seen very promising reactions to Intravenous Lipoic Acid in numerous cancers and these results appear to be more profound when combined with Hyperbaric Oxygen and other deliberate metabolic cancer supports.
What's PolyMVA?
PolyMVA or "Poly" is a Lipoic Acid Mineral Complex containing Lipoic Acid bound to Palladium, as well as Molybdenum, Rhodium, Ruthenium, as well as B1, B2, B12 and N-Acetyl Cysteine.
"Poly" is said to create more Acetyl-Coa from Pyruvate than standard Lipoic Acid and it "revs up" numerous Krebs Cycle and Electron transport chain enzymes for enhanced ATP production.
PolyMVA can be given orally and intravenously.
PolyMVA has been studied in Multiple Sclerosis and Lyme Associated fatigue and clinically we've seen some patients respond well receiving Intramuscular injections of PolyMVA at our Edmonton office.
Our Naturopaths have been using PolyMVA intravenously at our Edmonton office since 2017 for metabolic cancer support.
In general, normal Lipoic Acid is much more cost effective for use in Cancer IV treatments and we usually lean towards standard ALA.

Summary: Intravenous Lipoic Acid improve bioavailability dramatically and is used for neurodegenerative conditions, cancer and fatigue in various forms.
Interested in IV Therapy?
We can help


(780) 757-8378
Our Basic IV Therapy Treatments
Myers' Cocktail IV - Myers is our general vitamin IV. Great for energy and mood.
IV Vitamin C Infusions - High dose Vitamin C IVs given for cancer treatment.
Glutathione Injections - Used for skin whitening, detox, MS & Parkinson's.
Banana Bags & Saline - Hydration IV with added B1, Magnesium, Folate and other vitamins
B12 Shots - Our Naturopaths administer high dose B12 injections for a quick boost.
Vitamin IVs can often be combined - for example, we can give IV glutathione after a Myers Cocktail IV or after IV NAD+
The Classic IV Therapy for Energy, Mood, Immunity and more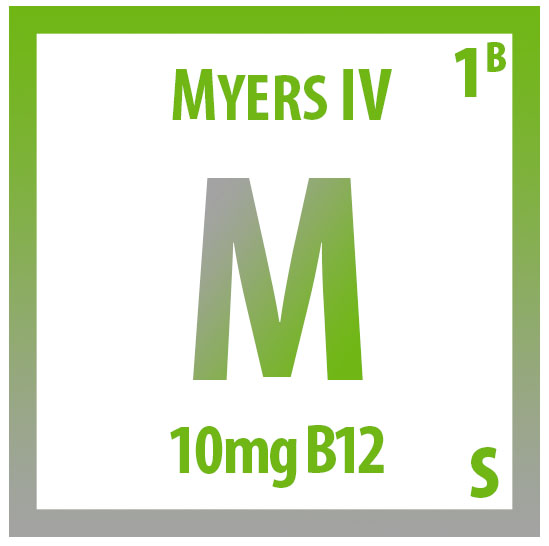 Myers Facts
So who exactly was Myers? From the late 1950s until the time of his death in 1984, the late John Myers MD was administering manually administered intravenous Vitamin syringes, what we refer to as "pushes" to his patients for fatigue, depression, and infections.
After his passing, a number of Dr. Myers' patients requested the treatment from Dr. Alan Gaby MD who was also in the Baltimore area.

Because the exact original formula was not known, Dr Gaby formulated his own version of the "Myers" treatment.
In total, Dr Gaby gave about 15,000 of these injections during his medical career.

TruMed has its own formulation of the Myers, that's evolved over a decade of administration.
Higher doses of most of the individual B Vitamins (B1, B3, B5, B6) as well as added Vitamin B2 as well as a different form and higher dose of B12 given as a short, small volume intravenous drip.
The Myers' is an extremely simple intravenous treatment, but from its simplicity comes versatility.
It can literally be used in dozens of different applications.
It is also compatible with lots of other IV treatments.

Most commonly at our office we combine the Myers with IV NAD+, IV Glutathione and IV Vitamin C.
Furthermore, the Myers is synergistic with Hyperbaric Oxygen Therapy because of mechanistic overlap. The pressure gradient flowing from the plasma to the cell and mitochondria is thought to move more nutrients into cells when Hyperbaric is done before or after IV Therapy.
Summary: The Myers is beautifully simple but is frequently massively effective for a range of conditions.
TruMed offers high dose IV Vitamin C for Cancer Therapy.
IVC Facts
Why give Vitamin C intravenously? There is a limitation on the level of Vitamin C achievable in the blood with oral consumption due to gastrointestinal saturation.
High dose IV Vitamin C can increase serum levels up 100-fold (up to 30 mM) whereas oral dosing achieves a maximum serum concentration of about 0.25 mM.
These massive blood levels allow pharmacologic actions of Vitamin C (effects beyond Vitamin C's basic physiologic functions).


At our office we distinguish "low dose" and "high dose" IV Vitamin C. That is, low dose refers to about 2.5 to 15grams whereas high dose is anywhere from 20grams to 125grams (125 000mg).
Although Vitamin C is an anti-oxidant when Vitamin C is given intravenously in its "high dose" format it's thought to stimulate production of hydrogen peroxide which is associated with antitumor and chemosensitization.
In normal cells, hydrogen peroxide is metabolized to water and oxygen by the enzyme catalase. Some tumor types lack catalase, leaving them vulnerable to the antitumor effects of hydrogen peroxide.
Vitamin C in moderate intravenous doses (10-25grams) have shown to improve in quality of life and cancer-related symptoms in cancer patients.
Furthermore, cancer cells are thought to selectively take up more vitamin C compared to normal cells through upregulated transport by glucose transporters due to their increased metabolic need for glucose and chemical similarity between Vitamin C and glucose.
Strong synergy is expected between high dose IV Vitamin C and Hyperbaric Oxygen.
Very commonly we use intravenous Vitamin C at our Edmonton office for both acute and chronic infections For instance, neutrophils are thought to accumulate large quantities of Vitamin C for their function.
Furthermore, Vitamin C can stimulate the production anti-viral cytokines such as interferon. Pharmacologic doses of Vitamin C (millimolar range) also have direct antiviral properties.
Vitamin C is always included as part of our Myers' Cocktail Drip and is frequently paired with Glutathione for cosmetic purposes.
Summary: IV Vitamin C has a range of uses depending on its dose and what it's combined with.
We have extensive experience with Intravenous Glutathione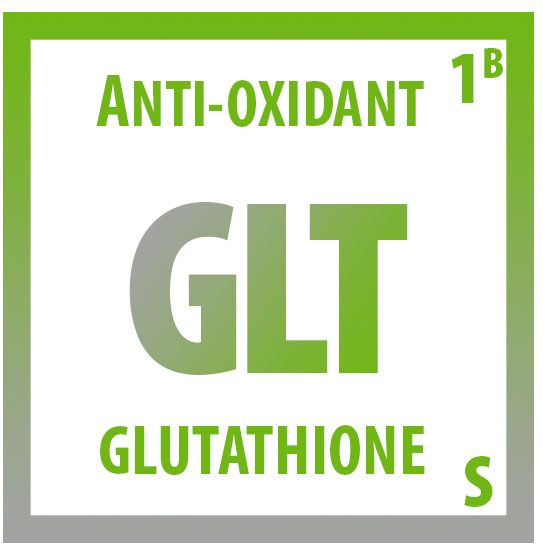 Glutathione Facts
Glutathione is so versatile: It's an Anti-oxidant/Anti-inflammatory, and is central to Detoxification, Immunity Cosmetics and Longevity.
Antioxidant - Glutathione is the body's main intracellular antioxidant and protects cells against oxidative stress.
Glutathione "directly scavenges diverse oxidants" such as superoxide anion, hydroxyl radical, nitric oxide, peroxynitrites, and lipid peroxides.
Detoxification -The elimination of many xenobiotic compounds can be accomplished through conjugation with Glutathione followed by secretion from cells (such as mercury and persistent organic pollutants).
Glutathione also detoxifies endogenous compounds.
As an example, our Naturopathic doctors often use Glutathione IV Therapy for detoxication from Mycotoxins from mold toxicity.
Immunity - Glutathione status is thought to directly affect lymphocyte and natural killer cell activity. For example, in HIV patients, restoration of Glutathione levels caused a significant increase in all immunological functions tested.
Our Naturopaths frequently combine IV Glutathione with IV Vitamin C which would be expected to have a synergistic effect on immune function.
Cosmetics - IV Glutathione is frequently used in cosmetics as it's thought to have skin lightening properties related to stimulation of lighter skin pheomelanin pigment synthesis rather than darker eumelanin.
A common request at our Edmonton office is to use intravenous Glutathione with Vitamin C for cosmetic purposes.
Longevity - Glutathione depletion has been strongly associated with diseases and loss of function with aging. A study of Glutathione levels in the elderly found that higher glutathione was associated with higher levels of physical health and fewer illnesses.
Glutathione status has been found to parallel telomerase activity (an important indicator of lifespan).
Therefore, the combination of IV Glutathione and IV NAD+ is frequently done at our Edmonton office for longevity purposes.
Our Naturopathic Doctors have extensive experience with Glutathione administration. We've literally given thousands of Glutathione IVs at our Edmonton offices. Glutathione drips are extremely well tolerated and often give rapid results in the management of acute inflammation.
Summary: Glutathione is versatile - we use it for its anti-oxidant and anti-inflammatory actions, for immunity, detoxification and longevity.
Nothing is more effective than Intravenous Rehydration.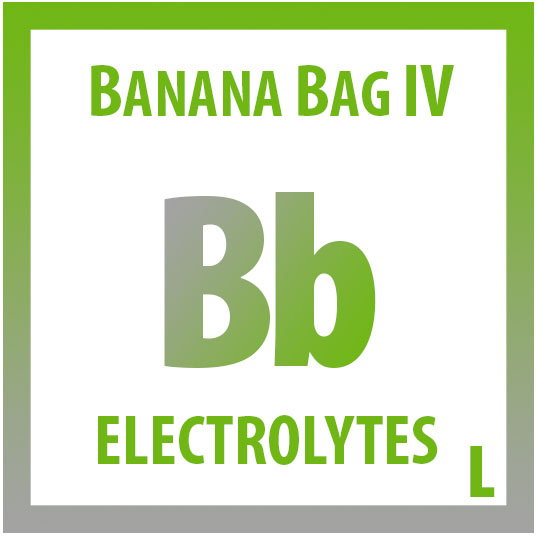 Hydration IV Facts
Our office works with two common rehydration methods - Normal Saline and a Custom Banana Bag IV.
In cases of acute volume depletion such as diarrhea or vomiting it is our preference to refer patients to the ER in order to correctly measure the depleted electrolytes and provide more specific, medically monitored rehydration.
Our saline rehydration IV therapy and Custom IV banana bags are meant for healthy adults that want to "top off' their daily fluid intake versus an acute fluid loss.
Saline is somewhat isotonic - about the same concentration as blood.
We frequently offer a small bolus of normal saline (250ml-500ml) prior to a Myers Cocktail IV drip which tends to be slightly dehydrating.
Our clinic offers Edmonton custom nutrient based rehydration formulas.
Our formulas have a full spectrum of B Vitamins, Folate, Magnesium, Potassium, Calcium and Bicarbonate for those looking specifically for a combination of nutrition and hydration.
Our customs IVs are deliberately slightly hypotonic to maximize cellular uptake.
The "banana" refers to the dilute yellow color of the IV from the Riboflavin content.
Summary: IV Hydration is the most effective means of hydrating yourself and we've got options!
B12 can be given intravenously and intramuscularly.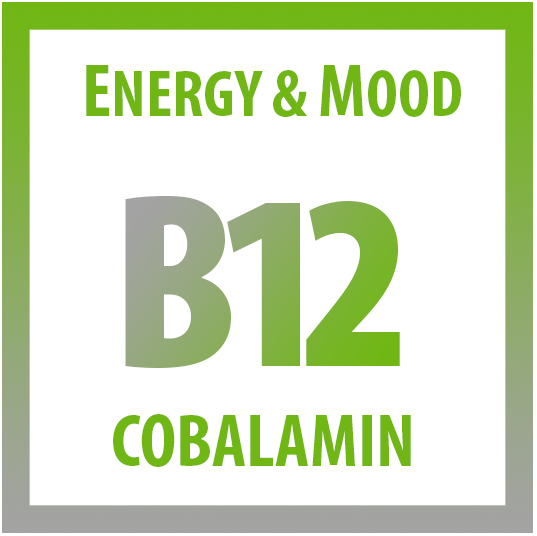 B12 Facts
B12 is one of our favorite secret weapons for rapidly improving energy and mood.
Its effects are frequently rapid - most commonly patients see results within 24 hours which is faster than most other treatments we offer for the same conditions at our Edmonton office.
Our Naturopathic doctors work with high dose B12 shots for a robust effect in a wide range of conditions.
By using IV administration we can dose B12 dramatically higher and achieve larger increases in blood levels than with intramuscular shots.
We often teach patients how to self administer B12 shots to reduce cost and time associated with in-office visits.
Some common uses of B12 injections:
Skin: Hives, Rashes, Itchy Skin & Shingles
Pain: Sciatica, Bursitis, Trigeminal Neuralgia, Peripheral Neuropathy
Neurological : MS, Alzheimer's, Autism, Cognitive Decline
Mood: Anxiety, Depression, Post Partum Depression & Bipolar
Our Naturopathic Doctors have experience with Methylcobalamin, Hydroxocobalamin and Adenosylcobalamin with our Edmonton patients.
Summary: B12 shots are low cost and versatile as we can use them in a wide range of conditions.
Interested in IV Therapy?

Call us today.
(780) 757-8378
IV Therapy FAQ
I HATE NEEDLES! Why IV Therapy?
When it comes to medicine, whether its standard western medicine or alternative care, everyone wants fast results.
Although it does not work for everyone, IV Therapy can give extremely rapid results.
In our experience, IV therapy frequently works much faster than most oral therapies for many common concerns.
In particular, Intravenous treatment can improve energy and mood faster than anything else we have to offer.
How does IV Therapy work so quickly? IV Drips and Infusions achieve blood nutrient concentrations that are simply not possible with oral consumption of those same nutrients.
The best example of this is Vitamin C where IV Therapy can achieve levels over 100 fold higher than taking Vitamin C by mouth.
Similarly, Intravenous magnesium can double or triple the serum levels compared to oral consumption.
Both Vitamin C and magnesium reach gastrointestinal saturation and cause diarrhea after a certain quantity.
How does IV Therapy work differently?
IV therapy works differently than oral administration through a few mechanisms.
100% absorption: With IV Therapy, the absorption is 100% whereas absorption of nutrients orally administration varies greatly depending on many different factors.
Enhanced cellular levels: IV Therapy produces a massive increase in the blood levels - cells are repeatedly "flooded" with nutrients improving their levels markedly better than oral consumption.
Pharmacologic effects: Because IV Therapy allows for dramatically high blood levels, nutrients also take on unique pharmacologic effects. For example, Vitamin C can exert an anti-viral effect in large doses.
How much does IV Therapy cost?
IV Therapy in Edmonton is pricey.
Average costs are between $135 - $195 per treatment.
Most commonly treatments are given 1x weekly for 3-4 weeks.
So how can I try IV Therapy?
At our Edmonton office we've really streamlined the process:
1) Call our office and find a spot for an initial IV Therapy consultation. This free 15 minute visit will help determine whether IV therapy is for you.
2) One of our Naturopathic doctors will review your past medical history and blood work. If needed, we'll run in house testing ($40) or send you for some blood work (usually about $100).
3) We'll make suggestions on the appropriate IV treatments for your health concerns.
4) Very frequently you can try an IV treatment on your first visit so be ready to try one of our awesome IV treatments.
How quickly does IV Therapy work?
Usually quickly! Most IV therapy treatments "kick in" in about 24 hours. But some treatments like IV NAD+ and IV Magnesium can have immediate effects.
What ingredients are used in IV Therapy?
Our clinic orders all of our IV Therapy ingredients from top compounding pharmacies across the country. Shipped express to Edmonton every week! We go through a lot of IV treatments so our ingredients are always fresh.
Vitamins: B1, B2, B3, B5, B6, B9, B12 and Vitamin C
Minerals: Magnesium, Calcium, Zinc, Selenium
Anti-oxidants: Glutathione, Lipoic Acid, Curcumin, PolyMVA
Your Naturopath at TruMed will put together a custom blend for you depending on your specific health concerns.
Will my benefits cover IV Therapy?
Very frequently yes!! Just to be sure, make sure you give our office a call and confirm before your first appointment. Usually if you have Naturopathic coverage, you should just get partial if not full reimbursement.
Can I do both Hyperbaric Oxygen and IV Therapy?
Many of our IV Therapy drips are enhanced by Hyperbaric Oxygen administration.
Your Naturopathic Doctor at TruMed will discuss if this is relevant to your case and how to best mix the two.
Is IV Therapy safe?
Our clinic takes your safety extremely seriously. In general nutritional IV therapy, although powerful, is extremely well tolerated and the incidence of adverse effects is remarkably low.
Is Vitamin IV Therapy new?
Our clinic has been doing IV Therapy since 2010, but it's been around since the 1980s.
What kind of experience do you have?
Dr. Muradov has given about 10 000 IV treatments to his Edmonton patients since 2010. Yes, that is a lot.
Questions about IV Therapy?

Call us today.
(780) 757-8378
Dr. M's Favorite IV Ingredients
B1(Thiamine) is an under appreciated vitamin for fighting fatigue.
It's involved in the first step of energy production right before the Krebs cycle (make acetyl-CoA from pyruvate).
That's why Thiamine has been studied in post infectious and exercise induced fatigue.
Our IV therapies have a hefty dose of B1 (up to 300mg of Thiamine) to kick start energy production.
B2 (Riboflavin) has been adding to our IV treatments by Dr. Muradov which is usually not part of classic IV therapy formulas.
B2 is the precursor to FAD (the coenzyme form) in the Krebs cycle so, like B1, it's needed for energy production.
The added Riboflavin will make your first post IV pee neon yellow.
B12 is used to make Succinyl-CoA which is also part of the krebs cycle which is then converted to succinate, which is part of the electron transport chain - the bottom line is B12 is amazing for improving energy because it jumps in at two key points of these pathways.
B12 shots are cheap and extremely well tolerated and are a great way to improve energy and mood.
NAD+ is just this heavenly molecule that ramps up energy production so well in so many patients that it's just a blessing.
It jumps in at multiple points of the Krebs cycle for energy. It's also a great mood booster.
In the background it's thought to improve longevity (Sirtuin activator) - it just covers so many bases that it's quickly become a favorite among our Edmonton patients.
Magnesium is this unsung hero when it comes to body physiology.
It's involved in over 300 enzymatic reactions in the body and it's needed for ATP to function so it's also this powerhouse for energy production.
We can give some wicked Magnesium doses intravenously as well, which would certainly give diarrhea if given orally, so that's awesome too.
Cosmetic IV Therapy
IV Glutathione for Skin Enhancing Effects

IV Therapy to stimulate of lighter pheomelanin pigment synthesis

Studies support the use of Glutathione for Skin Lightening and Brightening.
IV Glutathione is frequently given 1-2x weekly for 6-12 weeks
IV Vitamin C is often combined with IV Glutathione
Fatigue
Vitamins, and minerals used intravenously can frequently enhance energy
Myer's Cocktail: Intravenous B vitamins and Magnesium is a clinic favorite


NAD+ infusions are also frequently awesome for improving energy.
IV Therapy for fatigue is usually given 1x weekly for 4 weeks.

Most patients come in 1x monthly for a booster IV treatment.
Mood
Vitamins can play a crucial role in both anxiety and depression
We can compliment our oral mood treatments with Vitamin IV therapy.
IV Therapy gives higher brain levels of nutrients than oral therapy.

IV Therapy can give rapid results with mood like no other natural treatment can.

Methyl-folate and Methyl-B12 work by increasing production of SAMe
Immunity
Particular nutrients have intimate roles in immune system function
We've noticed that regular administration of the Myers' Cocktail can reduce cold incidence.
Additional Zinc, Selenium and Vitamin C can be added to many IV Therapies.
Vitamin C is often given in doses up to 40grams for immune IV Drips
Our Naturopaths treat both acute and chronic infections with IV Therapy.
Lyme Disease
IV Therapy can extremely helpful in Lyme Management
Our Naturopaths have found IV Therapy frequently supportive in Lyme Disease
IV Myers, IV Glutathione and IV Lipoic Acid are often "stacked" for Lyme neuro symptoms.
Furthermore, IV NAD can be great for Lyme associated fatigue.
IV PolyMVA is also used and has been formally studied in Lyme related fatigue.
We offer Edmonton Hyperbaric Oxygen with IV Therapy for Lyme infectious treatment.
POTS
Rehydration IV Therapy can be supportive in patients with POTS
POTS is often reflective of autonomic nervous system dysfunction.
IV Rehydration therapy with Saline for POTS can be extremely helpful
Frequently 1-2 L of Normal Saline is given intravenously.
Our Naturopaths also have custom nutritional IV rehydration therapies.
Dizziness, fatigue, cognition, and vision changes improve with IV Therapy.
MS
Nutritional IV Therapy can be used to improve QOL in MS patients
Dr. Muradov is experienced in the Alternative Management of MS.
IV Therapy with Glutathione can be great for acute exacerbations.
IV Vitamins can be supportive for fatigue and neurological function.
IV NAD infusions can be great for MS fatigue.
Additional B1 & B12 injections are also frequently considered.
ALS
Although challenging, IV Therapy is frequently beneficial in ALS
Our Naturopaths have seen some ALS patients benefit from IV Therapy
In particular, some ALS patients respond favorably to IV Glutathione.
Muscle strength and motor coordination sometimes improve from the IVs.
IV Nutrients and NAD appear to complement the Glutathione.
Parkinson's
Glutathione IV Therapy has a long history in Parkinson's management
The original literature suggested 600mg IV twice daily.
Our Naturopaths tend to give IV Glutathione less frequently but at a higher dose.
One case report indicated a 3 week gap between starting IV Therapy and symptoms improving.
IV NADH has also been studied in Parkinson's which we also work with.
IV Glutathione can be given right after IV NADH Therapy.
COPD
Nutritional infusions can be of benefit in COPD breathing ability
Intravenous infusion of magnesium can improve respiratory power in patients with COPD
At our office, our Naturopaths use IV Vitamin Cocktails with Magnesium.
Food Allergy Testing can also be helpful for improving breathing in COPD.
Glutathione IV and by inhalation can also be beneficial.
Sleep
Sleep commonly improves after IV Vitamin Drip administration.
Sleep seems to improve frequently after IV Vitamin Drips.
Sleep disorders can be challenging so we always consider using IV therapy.
The combination of B3, B6, B12 and Magnesium seems to be responsible for helping sleep.
Some patients have reported better sleep after B12 shots as well.
Athletics
Vitamin infusions can be of benefit with regards to Athletic performance
We've treated high level athletes with IV Therapy.
Nutrient infusions, Glutathione and NAD+ are the most common IV treatments.
Recovery, Immunity, and Athletic performance and stamina are areas of focus.
IV Therapy can be easily combined with Hyperbaric Oxygen for an enhanced effect.


Interested in IV Therapy?
Call these digits!


(780) 757-8378